There are over a hundred native languages in the Philippines. Except for Chavacano, all of them belong to the Malayo-polynesian subgroup of the Austronesian family of languages. Chinese -Mandarin and Fookein, as well as Spanish are also used by some sectors of Philippine society. English is one of the country's official languages, Filipino is the other official language.
Eight languages with the most number of native speakers are considered major languages. These are Cebuano, Tagalog, Ilokano, Bikol, Hiligaynon, Waray, Kapampangan, and Pangasinense. Ilokano and Tagalog are the lingua franca in Luzon; and Cebuano in the Visayas and Mindanao. Filipino is the national lingua franca.
Philippine languages may be classified into six subgroups: Northern Philippines, Southern Philippines, Meso-Philippines, Southern Mindanao, Sama-Bajaw, and Celebes Sangir.
I. The Northern Philippines Group
This is divided into two subgroups: Northern Luzon and Bashic -Central Luzon-Northern Mindoro. The Northern Luzon subgroup is composed of Southern Cordilleran, Ilokano, and South-Central Cordilleran; The second subgroup is composed of Bashic, Central Luzon, and Norhtern Minodoro languages. This is diagrammed below: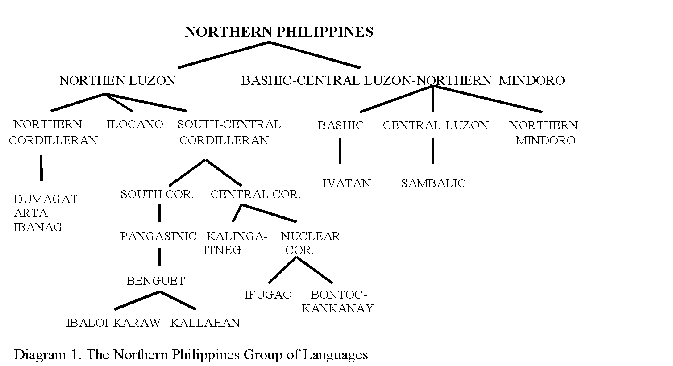 Note: Click Here for a larger diagram
Table 1 Classification of the Northern Luzon Subgroup (NP 1)

1. Northern Cordilleran --(a) Ibanagic ~ Adasen, Atta, Ibanag, Itawis, Yogad, Gaddang, Ga'dang, Isneg; (b) Arta ; (c) Dumagat ~ Kasiguranin, Paranan/Palanenyo, Agta --Alabat Island, Manide, Casiguran , Central Cagayan, Dicamay , Dupaninan, Umirey, Edimala, Pugot.
2. Ilokano
3. South-Central Cordilleran: (a) Southern Cordilleran ~ Inibaloi, Iwaak, Kallahan (Kayapa, Keley-i, Tinoc), Karaw; Pangasinan; Ilongot/Bugkalot; (b) Central Cordilleran ~ Itneg --Tingguian, Inlaod, Masadiit, Luba Tiempo; Kalinga --Butbut, Limos, Lower Tanudan, Lubuagan, Kal-uwan, Madukayang, Sumadel-Tinglayan, Upper Tanudan; Isinai; Nuclear Cordilleran ~ Balangao, Bontoc, (Igorot, Kadaklan-Barlig), Kankanay (Sagada Igorot, Northern Benguet); Ifugao -- Amganad, Batad, Mayoyao, Kiangan.
Table 2 The Bashic-Central Luzon-Northern Mindoro Subroup (NP 2)

1 Bashic: Ibatan.
2. Central Luzon: (a) Sinauna; (b) Sambalic --Ayta (Abenlen, Ambala, Bataan Sambal, Mag-anchi Sambal, Mag-indi/Baloga, Bolinao Sambal, Botolan Sambal, Tina Sambal); (c) Kapampangan
3. Northern Mindoro: Alangan, Iraya, Tadyawan
II. Southern Philippines Group
Twenty-three languages comprise this group. Subanon, Manobo, and Danao are its major divisions.

Note: Click Here for a larger diagram
Diagram 2 Southern Philippines Language Group
III. MESO PHILIPPINES
This group has four subgroups, namely: Southern Mangyan, Kalamian, Palawan, and Central Philippines which in turn is subdivided into Tagalog, Bikol, Mansaka, Mamanwa, and Bisaya. There are five Bisaya subgroups --Southern, Cebuan, Central, Banton, and Western.
2
Note: Click Here for a larger diagram
Diagram 3. The Meso-Philippines Group
This Group includes (1) South Mangyan: Batangan/Buhid, Tawbuid (Eastern), Tawbuid (Western), Hanunoo; (2) Kalamian: Agutaynen, Kalamianen, Tagbanwa; (3) Palawan: Batak, Molbog, Palaweño, Tagbanwa; (4) Central Philippines -- (a) Tagalog; (b) Bikol - Agta (Isarog, Iraya, Iriga), Naga, Virac, Albay, Rinconada, Pandan; (c) Mansakan -- Davawenyo, Kalagan, Tagakaulo, Kamayo, Isamal, Caraga, Mansaka, Cataeleño (d) Mamanwa; at (e) Bisaya.

Note: Click Here for a larger diagram
Diagram 4. The Bisaya Languages.
The languages in this group are: : Aklanon, Calayunen, Cuyonon, Malaynon, Kinaray-a, Ratagnon; Looknon, Ati, Romblomanon, Sorsogon Gubat, Sorsogon Bicol, Waray; Capiznon, Hiligaynon, Masbatenyo, Porohanon; Surigaonon, Butuanon, Tausug; Cebuano; Bantoanon; Mabinay Ata, Negros Oriental, Ayta (Sorsogon), Ayta (Tayabas), Karolanos (gitnang Negros), Magahat (Southwestern Negros), and Sulod (Tapaz, Capiz).
IV. SOUTH MINDANAO
The followingare the languages in this Group Blaan Koronadal, Sarangani Blaan, Tboli; Tiruray, Bagobo ~ Giangan.
V. SAMA-BADJAW.
The seven languagesin this group are classified into (a) Abaknon; (b) Yakan; and (c) Sulu-Borneo which includes Jama Mapun, Pangutaran Sama, Sama Balangingi, Siasi Sama, Sibutu.
VI. CELEBES SANGIR
CELEBES SANGIR is spoken in Balut and Sarangani Islands.
CREOLE.
Chavacano is a creole.It does not belong to the Austronesian family of languages. Its lexicon is Spanish bur its syntax is similar to that of other Philippine languages. Chavacano is spoken in Zamboanga, Basilan, Cavite, Ternate, and Ermita (Manila).

Maguindanao, Tausug, Maranao, and Ibanag complete the first dozen of Philippine languages with the most number of speakers. Four Philippine languages are listed by the Summer Institute of Linguistics (SIL) in the "Top 100 languages by Population" --Tagalog (number 57), Cebuano (# 61), Ilokano (# 91), and Hiligaynon (#100).

It is also worthwhile noting that some of these languages now are on their way to extinction: Agta (Alabat Island, Camarines Norte, Iraya); Northern Alta (Baler Negrito, Ditaylan Alta, Ditaylin Dumagat); Arta (of Aglipay and Nagtipunan in Quirino Province); Ata (Mabinay, Negros Oriental); Ayta (Sorsogon, Tayabas); Batak (Babuyan, Tinitianes, Palawan Batak); Katabaga (Bondoc Peninsula).

CLASSIFICATION OF PHILIPPINE LANGUAGES
And The Places Where These Are Spoken

Next Page : References